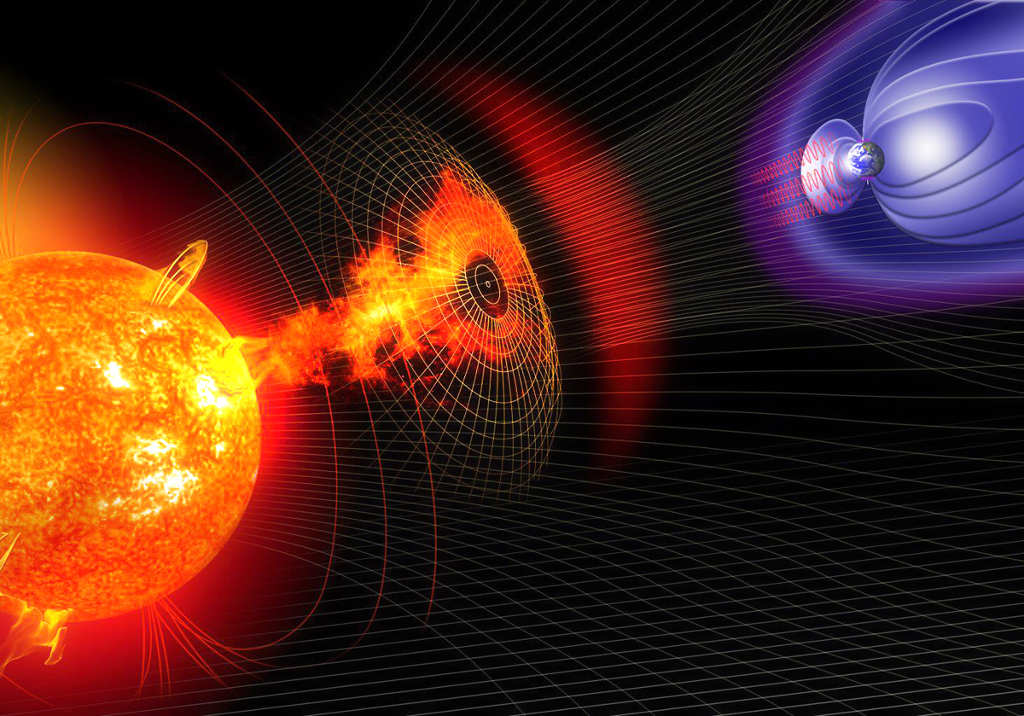 Welcome to SolarStorms.org!
Learn about solar storms and the costly problems they produce for you and me and our technological society.
Explore our site, the top nav categorizes our articles so you can learn the effect of solar storms and space weather on our environment, our planet, our lives, and everything in between!
Then do your own research from the 23rd Cycle online book and our online Resources including hundreds of newspaper articles.
Latest Articles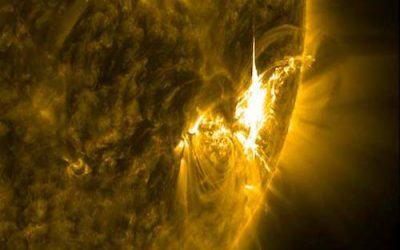 May 13, 1921 - The New York Railroad Storm
About Solar Storms
A solar storm, also known as a solar flare or a coronal mass ejection (CME), is a massive burst of radiation and magnetic energy that erupts from the sun's surface. This captivating astronomical event, capable of releasing the energy of millions of hydrogen bombs, is not just a spectacular display of cosmic force, but it also has profound implications for technology and life on Earth.
The Science Behind Solar Storms
Solar storms originate in the sun's outermost layer, known as the corona. This highly active area is threaded with magnetic field lines, which, under the sun's immense gravitational and magnetic forces, can become twisted and distorted. Occasionally, these twisted magnetic fields snap and reconnect, releasing vast amounts of energy in the form of solar flares.
More intense eruptions can lead to CMEs, where billions of tons of solar particles are thrown into space at high speeds. These particles, along with the accompanying magnetic field, create a shock wave of charged particles that can reach Earth in a matter of hours or days.
Effects on Earth and Technology
The impact of a solar storm on Earth depends on its intensity. When the charged particles from a solar storm interact with Earth's magnetic field, they can cause a variety of effects. Minor solar storms may result in beautiful natural light shows, known as auroras, near the Earth's polar regions.
However, larger solar storms can have more serious consequences. The surge of charged particles can interfere with satellites, disrupt GPS signals, and affect power grids, potentially leading to widespread power outages.
Space Weather Prediction
Predicting space weather, including solar storms, is a significant focus of modern astrophysics. Sophisticated monitoring equipment, both ground-based observatories and space satellites, track the sun's activity continually. Forecasts can provide warnings to power companies, airlines, and other industries that might be affected by a significant solar storm, helping mitigate their impact.
Solar Storms and Space Travel
Solar storms also present a considerable risk for space travel. Astronauts in space are exposed to the full force of a solar storm, as the Earth's atmosphere, which absorbs most of the radiation from smaller solar storms, does not protect them. For long-duration space flights, such as a mission to Mars, finding ways to protect astronauts from solar storms is a key challenge.
Understanding and predicting solar storms are crucial for our increasingly technologically-dependent society, and this challenge drives much of the current research in solar physics and space weather prediction.
Contact Us
Please contact us if you find any errors, broken links, or if you would like to submit an article!